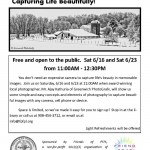 Greenwich PhotoGrafx is proud to support Friends of Phillpsburg Free Public Library (FPFPL) with this free 2-day photography workshop open to Library patrons and general public.
Join us on June 16th and 23rd (Saturdays) at 11:00 AM-12:30 PM at our local Phillipsburg Free Public Library for some lively discussions on simple and easy concepts and elements of photography to capture beautiful images with any camera, and feedback on your own images and how you can improve them.
To sign up, stop by at the Library, call "Friends" at (908) 454-3712, or email info@fpfpl.org.